Information About Sinclair Design Studio
Sinclair Design Studio is a graphic arts & web design studio located in New Smyrna Beach; beach side ("over the bridge") on a barrier island off the east coast of Florida. The office is inside a residence, which helps keep overhead low and rates affordable.
No job is too small and very few are too large for Sinclair Design Studio to handle. The size of your business doesn't matter either. From large corporations to small do-it-yourself-ers, all clients are treated with the same professional respect and enthusiasm.
Explore this site and see if your business could use a professional graphic artist's touch!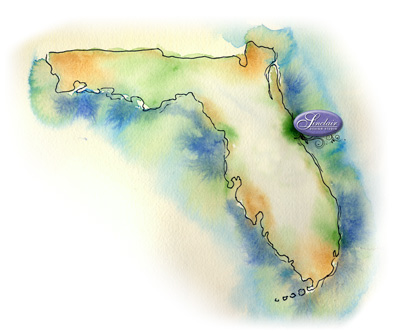 Dedicated to producing quality visuals that will represent you in the most professional way possible, Sinclair Design Studio would consider it a privilege to work with you!
---
Locations Serviced
With phone, Internet and overnight delivery services, why be limited by location? Sinclair Design Studio can work with you regardless of where you are! Clients located in New Smyrna Beach are able to meet face-to-face (office hours by appointment). Folks in Orlando, Kissimmee, Deland, Daytona and other nearby areas within Central Florida can always take a half day to enjoy a meeting at the beach! I am happy to meet at your office as well. Call 386-428-3040 to set up an appointment or fill out a request form.
History & Facts About Sinclair Design Studio
Here are a few facts about Sinclair Design Studio:
A Florida business since 1990
Opened in Winter Park, Florida then moved to Maitland and then to New Smyrna Beach (since 2008).
A woman-owned business (with an owner that loves Jesus, coffee and her wolf dogs)
Sole Proprietor that subs out tasks when necessary to highly qualified associates
Registered to do work with the State of Florida
Awards and testimonials can be read here
If you need more information, fill out the contact form, read about the owner Carla Sinclair-Wells or call 386-428-3040.
---
Somewhere Over the Rainbow... Dreams Really Do Come True!
Every project is personally treated as if it were representing my own business - because it is! You'll be so happy with my work, you'll have no problem telling others about Sinclair Design Studio.
Toto, we're not in Kansas anymore!
---
About NSB
New Smyrna Beach (NSB) is a great place to do business. Set up a meeting with Sinclair Design Studio, then spend the rest of the day at the beach, on the ocean or in the intra-coastal. Time on the water will do wonders for your creativity!
Make it a "staycation" and reserve a room at the Inn On The Avenue!